Mask Policy Update...Again!
Two days after our
last
announcement about masking for Worship being on a Tiered System that would follow the CDC Covid Tracker Color System... the CDC came out with a new color system! (Of course!) The new color system, called Community Level, is for individuals and communities, and the old color system (on which our plan was based) is now designated for healthcare facility use, and is called Transmission Level. The main difference is that the old system (Transmission) tracks more data to be of use to healthcare facilities, and the new system (Community Level) tracks mainly cases per 100k and hospital impacts.
What does this mean?
At their called Council meeting Tuesday night, 3/8, Council decided to update our Tiered Masking Policy to follow the NEW color system (see the website for details), and their recommendations for each color.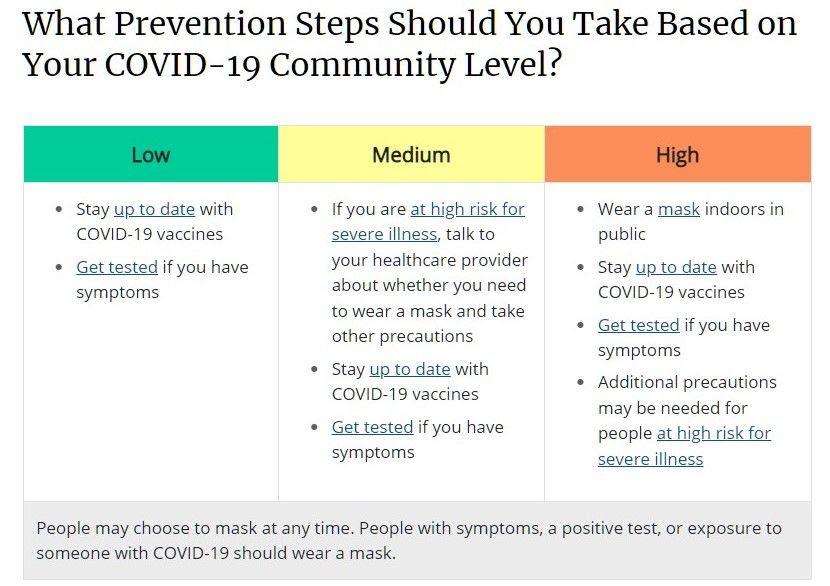 Masking
As you can see, Orange/High is the only Zone in which masks are recommended for everyone.
And so, effective beginning Sunday, March 20 (not this Sunday), we will implement the new Masking Policy:
Yellow
= Optional (see recommendations for specific at-risk groups)
Green
= safe for most everyone!
Our current color and masking situation will be included in the Weekly Friday Worship emails that go out.